John Kerry lays flowers at Hiroshima memorial
Comments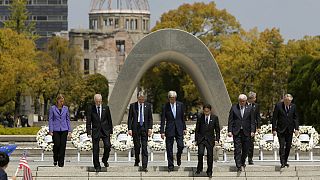 John Kerry paid his respects to the victims of the 1945 American nuclear attack on the Japanese city of Hiroshima on Monday. By doing so he became the first US secretary of state to visit a special memorial site where with other G7 foreign ministers, Kerry laid flowers.
More than 140,000 people died on the day of the blast or in the months that followed.
BREAKING: Kerry visits memorial to Hiroshima's atomic bombing, becoming the most senior US official to visit site https://t.co/20LnNDZVty

— The Associated Press (@AP) April 11, 2016
The trip by the ministers to the memorial and a museum was part of Japan's effort to send a strong nuclear disarmament message from Hiroshima, the world's first city to suffer atomic bombing.
It's thought that Kerry's trip could pave the way for an unprecedented visit to Hiroshima by a sitting US president when Barack Obama attends the annual G7 summit to be held in Japan next month.
US Secretary of State John Kerry visits Hiroshima peace park, 7 decades after atomic bombing pic.twitter.com/08Pr1vL4re

—

TIMES

NOW

(@TimesNow) April 11, 2016
However Kerry offered Japan's foreign minister no apology for America's use of the the atomic bomb:
"My visit to Hiroshima has very special meaning about the strength of the relationship and the journey we have travelled together since the difficult time of the war," said the Secretary of State.
The bomb on the city 71 years ago was the first of two atomic devices to be dropped on Japanese cities at the end of World War ll. The second was Nagasaki. Japan surrendered six days later.