G7 foreign ministers meet in Hiroshima, Japan
Comments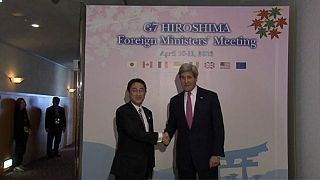 Foreign ministers from the Group of Seven industrialised nations (G-7)are meeting in the Japanese city of Hiroshima on Sunday and Monday.
Japan is hosting the talks in the city once all but annihilated by a US nuclear bomb to send a message of non-proliferation and peace.
It's also the hometown of Japan's foreign minister.
A traditional Shinto welcome ceremony got Sunday's schedule underway.
The G-7 ministers are expected to talk about extremism following the Brussels Attacks, as well as the refugee issue, nuclear non-proliferation, including North Korea's recent missile launches, as well as the Middle East and Ukraine.
Later they will visit the Hiroshima Peace Park which commemorates the 140,000 people killed by the first atomic bombing of a human population more than 70 years ago.
Russia absent
A key player not in the room is Russia. The eighth member of what used to be the G-8 has been excluded since last year because of its alleged support for separatist rebels in Ukraine. Russia has repeatedly denied claims of support for the rebels.
Russia's foreign minister is due to visit Tokyo to meet Japanese counterpart Kishida later in the week, a possible prelude to a visit by Japanese Prime Minister Shinzo Abe to Russia in May.