Eight-metre python 'dies' after being caught in Malaysia
Comments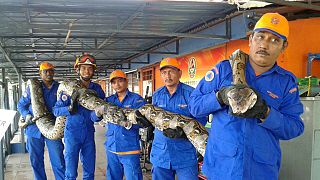 An enormous python found on a construction site in Malaysia, believed to be the longest snake ever caught at about eight metres, has died according to reports quoting officials.
The reticulated python was discovered by workers on the site at Paya Terubong on the popular tourist island of Penang.
Reports said it was found under a fallen tree. Workers called the emergency services and the authorities took half an hour to bring the snake to a safe place. It was found to weigh around 250 kilograms.
Penang's Civil Defense Department later told the BBC that the python died on Sunday after giving birth.
Reticulated pythons, whose name derives from the gridded pattern on their skin, are said to be normally three to six metres long. They are native to Southeast Asia.
According to the Guinness Book of Records, the longest snake ever held in captivity is Medusa – also a reticulated python – who was measured at 7.67 metre in Missouri, USA in 2011. She is kept on display at The Edge of Hell Haunted House in Kansas City.
It is thought that even longer snakes could exist in the wild. In 2012 a python shot in Indonesia was reportedly about 10 metres long.