Pope Francis urges more compassion towards 'imperfect' Catholics in family life
Comments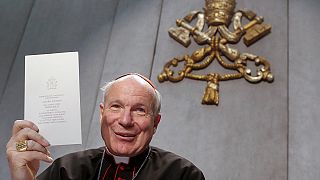 New guidelines issued by the pope on family life call for the church to be less strict and more compassionate to those he describes as being in "irregular" situations.
They don't change Catholic doctrine – but do call for more flexibility on the integration of those who divorce and remarry… which some see as a sign that such people could return to communion.
The much-awaited document – the result of two special summits or "Synods" and three years' work – was officially presented by senior cardinals at the Vatican.
"The pope does not forget to turn his attention to the fragility of families and even the failure of families, returning to a passage of his Evangelii Gaudium (advice given by Pope Francis on the Church's mission), and I quote, 'without diminishing the value of the evangelical ideal, we must have mercy and patience when we accompany people in their possibility for growth'," said Cardinal Lorenzo Baldisseri.
Pope Francis repeats his stance on homosexual people – they should be respected and protected from discrimination.
But any move to equate gay unions to heterosexual marriage is absolutely ruled out.
The pope – who's previously criticised rigid Catholic doctrine – seems to have taken a balanced approach between traditionalists and modernists within the Church.
Presentation of the Apostolic Exhortation "Amoris Laetitia" 2016.04.08: https://t.co/2xbVWVRJG0 via YouTube</a></p>&mdash; Vatican - news (news_va_en) 8 April 2016