Kento Momota admits to gambling at an illegal casino
Comments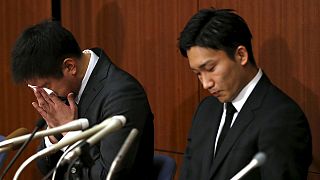 Japanese badminton sensation Kento Momota is set to miss the Rio de Janeiro Olympics after admitting to gambling at an illegal casino.
The World number 2, who became the first Japanese to win the World Federation Super Series Masters Final in December, was quick to apologise while team-mate Kenichi Tago, who was also at the casino, was unable to control his emotions as he broke down in tears at a packed news conference.
Japanese officials are set to hold an emergency board meeting this weekend to decide what action to take.
People found guilty of gambling in Japan can face jail terms of up to five years.
Badminton news | Japan Ace Kento Momota 'Regrets Betrayal' as Possible Rio Ban Looms: Kento Momota and fellow ... https://t.co/hsIr7acXHy

— BADMNTONWORLD (@BADMNTONWORLD) April 8, 2016