ISIL has doubled its numbers in Libya says US
Comments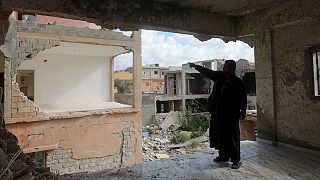 US says

ISIL

increasing its fighters in Libya
West fears the group seeks to exploit political chaos
Hopes pinned on the UN-backed Government of National Accord
The news
Info Lh: le General David Rodriguez très mobilise sur les forces américaines en Afrique…. pic.twitter.com/X9KRHnuLvv

—

LAURENCE

HAIM

(@lauhaim) May 13, 2014
The US says ISIL has doubled the number of fighters it has in Libya.
The Commander of US forces in Africa estimates their numbers have been significantly increased over the last 18 months, as Libya has been shaken by ongoing political chaos.
Speaking in Washington, General David M. Rodriguez estimates there are now between 4,000 and 8,000 in the country.
"In Libya, the US intelligence community has said it is around 4,000 to 6,000. It has probably about doubled in the last 12 to 18 months, based on what their assessments were last year."
Why is there concern?
The group's growth in Libya is worrying Western governments.
They fear ISIL will take advantage of the country's ongoing political chaos to emulate its success in seizing territory in Iraq and Syria.
Since 2014, loose coalitions of armed brigades have backed rival governments in Tripoli and the east.
Western governments back the Government of National Accord (GNA)
They are counting on the UN-backed authority to tackle the threat from ISIL which, it is hoped, will stem migration across the Mediterranean and restore Libya's finances by restoring oil production.
ISIL

in Libya
Sirte is the city stronghold
Presence in Derna and Benghazi in east
Sabratha in west.
Believed to have 6-8000 fighters
Libya's fledgling government
#Libya Tripoli-based parliament (GNC) split. Separate sessions, one backing UN government, the other opposing.https://t.co/WFlgmbNaJn

— Chris Stephen (@reportingLibya) April 5, 2016
On Tuesday, the General National Congress (GNC) voted formally to adopt a UN-backed unity government.
However, many GNC members were not present for the vote.
The internationally-recognised eastern parliament has not formally endorsed the new peace deal or its unity government.
The Government of National Accord (

GNA

)
#Libya initial picture of the GNA's presidential council arriving in #Tripoli. pic.twitter.com/pLDBHN9P3R

— Mohamed Eljarh (@Eljarh) March 30, 2016
Emerged from UN-brokered deal in December
Faces opposition from hardliners in east and west
Does not yet have approval of parliament in east
Protected by some key armed brigades in Tripoli
Working with National Oil Corporation and central bank to chart economic recovery
What they are saying
"In Benghazi and Derna, (Libyan armed groups) have fought back against the Islamic State and made it much tougher for them to operate, as well as in Sabratha." – General David M. Rodriguez, US Africa Command.
"I think all Libyans are convinced that now there is no use in conflict and we must now focus on points that can unify us and points that we agree on, not points of disagreement." – GNC member Balqasem Aqzeet.