Iceland: protesters call for more resignations as government forms new Cabinet
Comments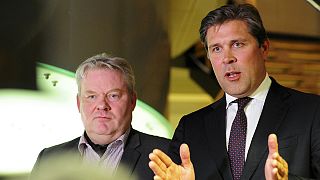 The new prime minister of Iceland, Sigurdur Ingi Johannsson, has formed his Cabinet. The handover from the previous cabinet took place at two State Council meetings on Thursday.
Johannsson took over as prime minister after Sigmundur David Gunnlaugsson resigned in the wake of the Panama Papers leaks. Gunnlaugsson admitted having owned an offshore firm with his wife which wasn't declared when he became an MP.
Opposition parties say they want a no confidence vote, but for now the centre-right coalition has a majority.
Protesters have been demonstrating outside the parliament in Reykjavik since the scandal broke earlier in the week. Many are calling for the entire government resign and for early elections to be held
One protester said: "They (the government) say 'this is nothing, we're not going to listen to this. We're not going to let protests control us because we have 38 votes (MPs) in parliament, so we're not going to let it control us.' It makes me feel nauseous and angry, and I've had enough."