And also... Russian Communists want their star back, Sweden's new phone number, Gay slur 'not homophobic' - French ruling
Comments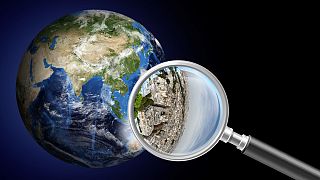 Every Friday journalists from euronews' various language teams choose a selection of stories from Europe and beyond which did not reach the international headlines
Italy: Raffaele Sollecito, cleared of murder, now TV 'murder expert'
Raffaele Sollecito's career is booming. Since being cleared of the murder of Meredith Kercher in 2014, Amanda Knox's ex-boyfriend has landed a job as crime expert on Italy's Tgcom24 television channel, on a show about unresolved crimes..
He says that after four years in jail he is "uniquely positioned to weigh on cases."
His official job title is 'opiniologist' translated from the Italianword 'opinionista.'
He is also involved in the startup company "Be on memories" a so-called online memorial service for loved ones who have passed away.
---
Tribunal rules that it's acceptable to call a male hairdresser a 'dirty faggot'
France's Labour Minister Myriam El Khomri has strongly criticised ruling by the Labour Court of Paris that the derogatory term 'faggot' was not homophobic in the case of a hairdresser who failed to show up at work because he was sick.
After sacking the absent worker, the manager of the hair salon accidentally sent him a text reading: "I am not going to keep [sic: the hairdresser in question]. I don't have a good feeling about this guy. He's a dirty faggot."
Speaking on RTL, the minister described the ruling as "outrageous" and "shocking."
Le Défenseur des Droits, a human rights group, has confirmed the decision will be appealed, reports Pink News
.
---
Russian Communists want their star back
Russia's Communists want to ban foreign companies from using their party's famous symbol.
Vadim Solovyov, a lawyer from the party, said he would ask Prime Minister Dmitry Medvedev to rule on the issue, making an exception for some Russia businesses.
However, many of the foreign companies which use the star, including Macy's department store and Heineken, pre-date the formation of the Communist party, according to The Moscow Times.
Cadbury tried to trademark purple, now Russia wants to copyright the red star https://t.co/rSWuAZuOWF

— Emma Tucker (@emmatucker) April 8, 2016
---
Sweden's new phone number
Do you know the number of Sweden? I mean the phone number of 'the country itself'.. It is +46 771 793 336. Sweden become the first country in the world to introduce its own phone number, to honour to introduce a constitutional law to abolish censorship. Call +46 771 793 336, get connected to a random Swede, anywhere in Sweden and talk about anything you want.
---
Do pupils have the right not to shake hands with their teacher?
Switzerland discusses the case of two brothers from Syria who refused to shake hands with their female teacher in the Swiss town of Therwil near Basel because, they say, of their Muslim faith.
The school authorities have respected the brothers' religious custom and said it is not necessary for them to shake hands with their teacher.
Islam prohibits non-essential touching and physical contact with a person of the opposite gender, with the exception of certain immediate family members, according to "Talk to Islam:http://talktoislam.com/14/why-dont-muslim-men-shake-hands-with-women. The website points out that it shows respect towards the other person ans is also common with many of the Jewish, Hindu, and Buddhist faiths.
Swiss split over Muslim students' 'handshake' storm https://t.co/k6XBgJtnmg

—

CNBC

(@CNBC) April 6, 2016
Sources