Erdogan warns Turkey won't respect migrant deal unless EU keeps promises
Comments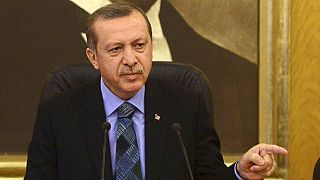 Turkey's President Recep Tayyip Erdogan warned on Thursday that his country will not go through with implementing the migrant deal reached with Brussels unless the EU fulfills all the pledges it made.
Ankara has agreed to take back migrants and refugees who have crossed the Aegean Sea to enter Greece illegally after March 20, if they fail to apply for asylum or if their claim is turned down.
In return, Europe will take in thousands of Syrian refugees directly from Turkey and reward Turkey with money, visa-free travel and progress in its EU membership negotiations.
Erdogan's warning came the day after Turkey and Germany said the accord, meant to stem the massive influx of migrants to the Greek islands, was showing signs of success
However deportations to Turkey, which started on Monday, have already ground to a halt as Greece struggles to cope with a spike in asylum claims.
According to official data, about 50,000 refugees and migrants are stranded on the Greek mainland after border closures in February sealed off a Balkan route used by thousands to reach western Europe in the past year.
A young woman from Syria carries her young child in her arms at Idomeni on the Greece / FYRoM #Europepic.twitter.com/I7IHdqSCiU

— UN Refugee Agency (@Refugees) 6 avril 2016
Critics say the EU was in such a rush to start the returns to Turkey that it skirted legal concerns, something that will come back to haunt it once it moves on to the deportation of asylum-seekers and refugees rather than the illegal migrants sent back so far.
Human rights campaigners have questioned whether Turkey has sufficient safeguards to qualify as a safe country for refugees.