EU proposes reform of common asylum system
Comments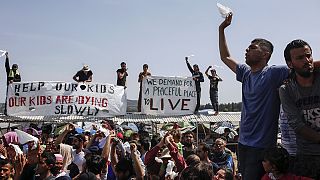 For the approximately 51,000 migrants and refugees still stranded on Greek islands, the future remains uncertain. The EU-Turkey deal to deport migrants back across the Aegean has led to a spike in asylum applications in Greece. Athens said this has created a two-week backlog.
With an EU deal rushed into action to stem the flow of migrants arriving on Greek islands from Turkey, the bloc is playing legal catch up.
On Wednesday the European Commission announced a proposed reform of its common asylum system in a bid to help countries on the frontline.
"The problem we need to fix is that the system relies largely on where a person first arrives in the EU to decide which member state should handle an asylum claim. This is neither fair nor sustainable given the reality of the volumes of people which has put a huge burden on just a very few number member states," explained Frans Timmermans, European Commission Vice president.
Any reform of the system is likely to be subject to a long drawn out process.