Barcelona's Lionel Messi threatens to sue over tax dodge claims
Comments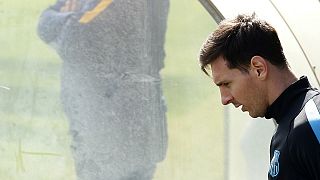 Lionel Messi's troubles with the tax authorities show no sign of abating.
The star is already due in court at the end of May after he and his father Jorge were accused by the tax office of defrauding the Spanish state of 4.2 million euros.
The state attorney has proposed jail terms of up to 22 months if they are found guilty. Messi and his father, who have denied the accusations, paid five million euros to the tax authorities as a "corrective" measure after being formally charged in June 2013.
But as the fallout from the Panama Papers continues to shine a light on the financial arrangements of high profile and pubic figures, the player is said to be considering legal action after he was accused by Spanish newspaper El Confidencial of creating a company with the aim of evading tax.
Among the huge volume of 11.5 million documents are said to be the signatures of Lionel Messi and his father.
The World Player of the Year has denied all the allegations and has received the backing of his football club.
Meanwhile, the Spanish tax authority says it is keeping close tabs on the case.