FIFA chief, Gianni Infantino, dragged into Panama Papers scandal
Comments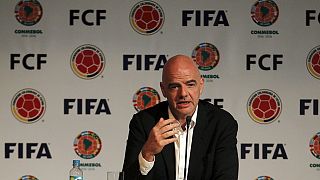 He was elected as head of FIFA with a promise to clean up football's world governing body.
Yet files seen by the Guardian newspapers in the Panama Papers leak have raised questions about the probity of Gianni Infantino from when he was director of legal services at Uefa, European football's governing body.
Uefa had previously denied doing business with any of the 14 people who have been indicted by the FBI in its investigation into corruption in world football. It now alleges that the TV rights were sold to the highest bidder in a competitive tender process.
According to records leaked by the Panama Papers scandal, Infantino concluded offshore deals with Hugo and Mariano Jinkis who have since been accused of bribery.
The files show that in 2006, while he worked at Uefa, Infantino signed off the South American rights to broadcasting the Champions League to an Argentinian company called Cross Trading, which was owned by Hugo and Mariano Jinkis.
The two later sold them on to broadcaster Teleamazonas for about three or four times the amount paid for them.
Uefa has denied any wrongdoing by any of its officials or any other marketing partner.
There is no suggestion that Infantino received a bribe from the two businessmen.
The disclosures are based on the leak of 11m documents from the files of the offshore financial law firm Mossack Fonseca.