Fewer students turn out for French labour reform protest
Comments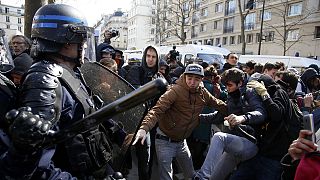 There have been more clashes between police and protesters in Paris during student demonstrations against French labour reforms.
Tear gas was used to disperse youths blamed for seeking trouble – often wearing masks and not believed to be students themselves – who threw stones, bottles and eggs at police.
Identity checks close to the march led to 130 arrests.
The trouble occurred during an informal cortege during the morning. The official march in the afternoon was led by leaders of unions and student organisations.
The number of protesters was estimated at between 3,200 and 3,400 – well down on the figure of 9,000 who turned out at another rally last week.
Clashes and disruption linked to nationwide protests were also reported in other parts of the country.
A number of "lycées" (high schools) were blockaded by students – 34 according to the government, 150 according to a prominent students' union – out of a total of 2,500 in France.
The Education Minister Najat Vallaud-Belkacem condemned the disruption, blaming "some individuals (who) come voluntarily to provoke material damage".
For the protesters the reforms spell out a far less secure future.
"We are here because of our beliefs, we're not here just to 'break things' and to beat up the policemen. We're here because we want to make ourselves heard, and we'll stay here," said Simon, a 17-year-old high-school student at the Paris protest.
"I'm still at high school which means I'm going to be working in a few years and change needs to happen now. It means we have to change things today and not wait for tomorrow, because in the end tomorrow's generation is us," added Abdel, also 17.
Several weeks of demonstrations have marked the Socialist government's attempts to pass the labour law.
Its supporters say reforms will encourage firms to hire, reducing France's chronic unemployment rate. For its opponents, it's a dangerous attack on employment safeguards.