Video: woman mowed down by car speeding from police in Molenbeek
Comments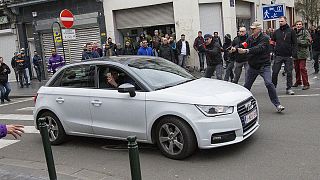 Belgian police arrested several right-wing and anti-racist protesters on Brussels on Saturday.
Riot officers engaged in a tense confrontation with local youth in the Molenbeek neighbourhood.
In one incident witnessed by a Reuters reporter, a car hit a woman as it sped away from police.
A FAIRETOURNER ET PARTAGER UN MAX !!!ON DOIT LE RETROUVER !!!VIDÉO EN DIRECT DE LA FEMME RENVERSÉ ÂME SENSIBLE S ABSTENIR ! !!!

Posted by Les Couches Tard D' Bxl on Saturday, April 2, 2016
Both the right-wing demonstration and the anti-racist counter protest had been banned by local authorities. They wanted to avoid a repeat of last weekend's disturbance when police fired water canon to break up protesters, many of whom were said to be right-wing nationalists.
"Considering what happened here last Sunday, with extreme right-wing people almost being escorted by the police, we thought that it would be important to be here to denounce this," said Brussels resident Violette Fertimel. "Especially after all that happened, we should not fall into hatred, not give in to terror and not give in to fascists on the street."
In the centre of Brussels, police held about ten anti-racist protesters who had gathered near the bourse where a makeshift memorial had been set up after last months airport and metro attacks.