Foxconn and Sharp sign big takeover deal
Comments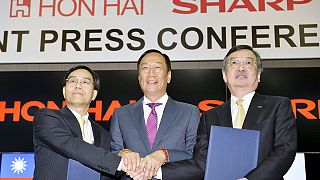 It is being described as the largest ever foreign takeover in Japan's hi-technology sector.
A deal has been signed for the acquisition of Japan's Sharp Corporation by the Taiwanese company Foxconn, known also as Hon Hai.
The deal is worth the equivalent of three billion euros.
The Taiwanese firm, which is the world's largest assembler of iPhones and iPads, has offered to invest heavily in Sharp.
The Japanese company used to be a leader in television sets but has struggled in recent years to keep up with the competition.