Children help police capture suspects on the run in the most ingenious way
Comments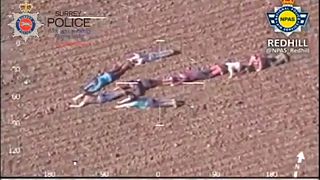 Police in the UK had an unusual tip off when searching for two suspects on the run.
The swift action taken by the group of parents and their children was the sort of thing you would usually associate with an Enid Blyton adventure.
A group of children was taking part in an Easter egg hunt when they spotted the National Police Air Service helicopter chasing the men and decided to form an arrow with their bodies to point the police in the right direction.
The crew quickly relayed the information to the Surrey police officers on the ground who were able to capture the suspects who were later charged with burglary.
Capel kids help 'copter to capture crooks!https://t.co/bXIKOmAlBShttps://t.co/SEJdytudD6
cc/ NPAS_Redhill</a> <a href="https://twitter.com/hashtag/NotAnAprilFool?src=hash">#NotAnAprilFool</a></p>&mdash; Surrey Police (SurreyPolice) April 1, 2016
Commenting on the events, NPAS Sergeant Paul Sochon said: "I'm sure the last thing the group of daring Capel residents expected when they set out on Friday afternoon was to abandon their Easter egg hunt to assist us in a police search but the initiative they demonstrated proved to be invaluable.
"The swift action taken by the group of parents and their children was the sort of thing you would usually associate with an Enid Blyton adventure but their ingenuity proved a great help for our crews."