'Only possible verdict,' says Šešelj of war crimes acquittal
Comments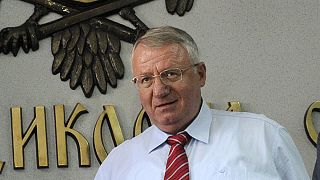 It was "the only possible verdict" Serbian nationalist politician Vojislav Šešelj said of the United Nations tribunal's decision to acquit him on counts of war crimes and crimes against humanity.
"My attitude has not changed one little bit towards the Hague tribunal (The International Criminal Tribunal for the former Yugoslavia or ICTY): it is an anti-Serbian court and an instrument of the new world order. The moment I went to The Hague I knew that they could not prove any crime," the leader of the Serbian Radical Party told a press conference in Belgrade
Šešelj, who initially surrendered to the court in 2003, was accused of stoking ethnic hatred during the wars prompted by the break-up of the former Yugoslavia.
He has always maintained his innocence.
Lifetime ban
Croatia, however, has condemned the verdict and put a permanent ban on the Serb entering the country.
Its Prime Minister, Tihomir Orešković, labelled the outcome of the case "shameful." Speaking in Vukovar, he said:
"He committed crimes and did not demonstrate any remorse […] It represents a defeat for the Hague Tribunal and the prosecution."
Bosnia
Muharem Sinanovic was injured and his brother arrested and killed in a massacre on a Bosnian village in the 1990s. Although disappointed in the UN court's decision, he also expressed resignation.
"This war criminal machine is still happening today. We are used to it already. Our skin is thick enough and we live in the hope that justice will come eventually," he said.