Passengers and crew on hijacked jet arrive back in Egypt
Comments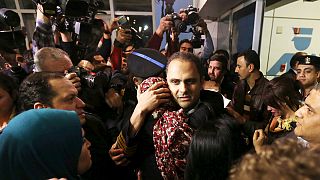 Passengers and crew have arrived safely in Egypt after their plane was hijacked.
Authorities say a man using a fake suicide belt forced the EgyptAir jet, en-route from Alexandria to Cairo, to land in Larnaca in Cyprus.
He was later arrested after giving himself up.
"Thank God we are fine and all the passengers are fine. The man was arrested and it's all over, thank God," said Captain Omar Algamal in Cairo.
EGYPTAIR flight no 742 heading to Cairo from Larnca has just arrived in Cairo int'l Airport.

—

EGYPTAIR

(@EGYPTAIR) March 29, 2016
صور من استقبال الركاب وطاقم الطائرة في مطار القاهرة. pic.twitter.com/MHdUi1BUyV

—

EGYPTAIR

(@EGYPTAIR) March 29, 2016
The exact motive for the hijacking is unclear. One official said the hijacker appeared unstable, a Cypriot state broadcaster said he'd demanded the release of women prisoners in Egypt.
And witnesses claim the man threw a letter on the tarmac at Larnaca airport, asking for it to be delivered to his Cypriot ex-wife.
Authorities now describe hijacking of EgyptAir plane as less an act of terrorism and more like "family feud": https://t.co/4jGYnIOy5r

— The Associated Press (@AP) March 29, 2016
Egypt's aviation industry was already reeling from the crash of a Russian passenger jet in the Sinai peninsula last October.
Surveillance footage apparently showing the hijacker being searched in airport security in Alexandria has been released by authorities.