Egypt defends air safety after hijacking
Comments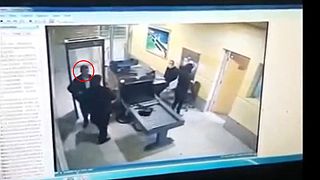 The hijack of EgyptAir Flight MS181 on Tuesday after its take-off from Alexandria may have ended safely.
But security questions raised are likely to deal another blow to the Egyptian tourism industry.
Speaking to reporters as the hostage drama at Larnaca, Cyprus, came to an end, Egyptian Prime Minister Sherif Ismail said that the hijacker at one point demanded a meeting with a representative of the EU and at another point demanded that the plane leave for another airport.
"In general there was no specific demand," Ismail said.
"He is an Egyptian and obviously there will be a thorough investigation to find out the reasons behind such an act."
Egypt is eager to demonstrate that security at its airports is good and Ismail said stringent measures were in place.
TV channels have been showing video footage posted by Egypt's Interior Ministry on its Facebook page in which a man presented as the suspected hijacker is seen passing through a scanner and being searched before the plane took off amid security checks at Alexandria.