EgyptAir hijack drama ends safely
Comments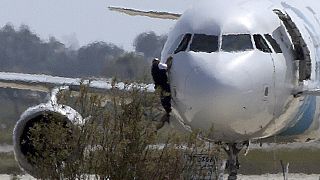 Passengers and crew are safe and an alleged plane hijacker was arrested on Tuesday after an hours-long hostage drama in Cyprus.
A domestic EgyptAir flight from Alexandria to Cairo was forced to land at Larnaca airport by a man claiming to be wearing an explosives belt.
Most of the more than 60 passengers and crew were released soon afterwards.
But for one of the handful still held, several hours later, drastic steps were taken.
A man, possibly the pilot, was seen climbing out of the cockpit window onto the tarmac.
All hostages, of various nationalities, were eventually freed unharmed.
Cypriot President Nicos Anastasiades welcomed the safe outcome.
Congratulations to the #Cyprus Police and CyprusMFA</a> for their efforts to end the <a href="https://twitter.com/hashtag/hijacking?src=hash">#hijacking</a> & ensure the safety of all passengers and crew</p>&mdash; Nicos Anastasiades (AnastasiadesCY) 29 March 2016
The alleged hijacker, identified locally as Egyptian national Seif Eldin Mustafa, was arrested after surrendering. Reports said he was not carrying any explosives.
The motives for the hijacking remain a mystery.
Initial reports of the hostage-taker demanding to see an ex-wife living in Cyprus were followed by claims of political motives with demands for female prisoners to be freed in Egypt.
Some reports have described the hijacker as unstable.
The Airbus 320 had been heading from Alexandria to the Egyptian capital Cairo when it was hijacked early on Tuesday.
The incident has once again shed light on airport security in Egypt, just months after a Russian plane travelling from Sharm-el-Sheik was brought down by a terrorist attack.
ISIL said it planted a bomb on the aircraft, killing all 224 people on board.
Tourism in Egypt has suffered since that tragedy.
How #Egypt's tourist hotpots are DEAD ZONES amid terror fear https://t.co/WFWFuWZYEgpic.twitter.com/rTCEdzjhd7

— Daily Express (@Daily_Express) 29 mars 2016