France says 'no' to controversial plan to strip terrorists of their nationality
Comments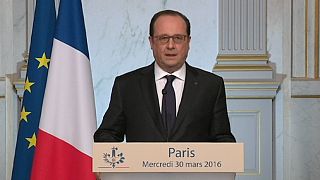 French President François Hollande has dropped controversial plans to change the constitution; plans which included a clause allowing convicted terrorists to be stripped of their French nationality, if they are dual nationals.
A compromise appears out of reach.
Solo French nationals were not included in the proposed bill.
The decision came after France's two houses of parliament failed to agree on the proposed reforms.
"A compromise appears out of reach," Hollande said of the outcome.
"Parts of the opposition have been hostile to a revision of the constitution. I deplore this attitude," he continued. "I have decided to end this debate."
It's a huge setback for the Socialist president, who suggested the measure three days after the November 13 terror attacks in Paris.
Claimed by the ISIL militant group, the series of coordinated bombings and shootings killed 130 people.
The withdrawal of the plan ends months of heated debate on the subject, with critics dismissing it as inefficient and purely symbolic.
Also included in the plan — and, therefore, to be dropped — was Hollande's proposal to add rules for a state of emergency to the French constitution.
A clause for confiscating passports was brought to an abrupt halt last week. The opposition-controlled upper house of parliament approved a different version of it to that adopted earlier by the Socialist-controlled lower house.
Changing the constitution requires three-fifths of both houses of parliament to approve the government's proposal in exactly the same terms.
Hollande had, initially appeared resolute about the suggested amendments to the constitution. The measure was favoured by the right and MPs gave him a standing ovation when he put forward the proposal at a rare, joint meeting of the lower and upper houses.
Frederic Dabi at the Ifop pollster said the withdrawal of the plans to change the constitution will present the president as an ineffective leader.
"It's going to revive the perception of a president who is not determined, who lacks authority, whose hand is shaking," he told Reuters. "It also reinforces the feeling of a term during which reforms have dragged on, got bogged down."
Once the shock of the Paris attacks began to fade, however, many on the left of the president's ruling Socialists began to criticise the measure. They said it created a two-tier nation and disagreed with the idea of differentiating between dual and solo nationals.
Conservative former Prime Minister, Jean-Pierre Raffari labelled their disapproval a "blow by [Hollande's] political friends."
"The president's authority over his own troops is being challenged," he added.
Cracks have begun to show within the Socialist Party. Notably, in January 2016, the-then-Justice Minister, Christiane Taubira, handed in her resignation in the fallout over the proposed stripping of the nationality of convicted terrorists.