UN chief visits Tunisia as anti-terror efforts continue
Comments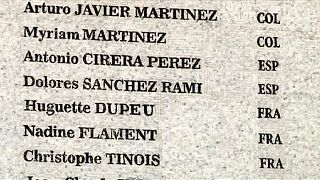 Ban Ki-moon has honoured victims of terrorism in Tunisia and elsewhere just over a year after the massacre at the Bardo national museum in the capital, Tunis.
The UN Secretary General laid a wreath at the scene of the attack, which marked the start of a bloody year in Tunisia, as Islamist militants battled to destroy the young democracy.
In Tunisia today, Ban Ki-moon paid tribute to victims of terrorism at Bardo Museum. Info: https://t.co/Tvea8cPIpRpic.twitter.com/1nkluhPJWk

— United Nations (@UN) 28 mars 2016
The names of the 22 people killed – 21 tourists and a policeman – are now displayed at the site.
"The Bardo museum is a symbolic place for us," said Tunisian Culture Minister Sonia Mbarek.
"We have decided to keep on living and to hold events in the Bardo Museum and outside and at all Tunisian museums. It is our way of defending our culture and the right to life."
The slaughter of March 18 2015 was followed by June's massacre at the beach resort of Sousse that left 38 people dead in what the government says was an attempt to destroy Tunisia's tourism industry.
Both attacks were claimed by ISIL.
How terror changed tourism in Tunisia https://t.co/4TXDQTlXxi

— The Independent (@Independent) 18 mars 2016
A year after the Bardo bloodbath, Tunisia continues to struggle with rising Islamist militancy fuelled by the group's growth in neighbouring Libya.
More than 3,000 Tunisians have left to fight for so-called Islamic State and other jihadist groups in Syria and Iraq. Security officials say Tunisians are now taking more and more command positions within the group's Libya operation.