The Corner: Cruyff passing leaves football world in mourning
Comments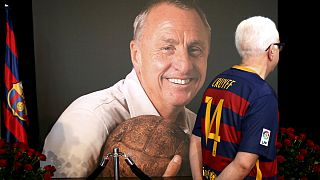 Barcelona's Nou Camp opened its doors on Saturday morning (March 26) to allow fans to pay tribute to Johan Cruyff, a formidable presence at Barcelona as well as one of soccer's greatest players and most visionary coaches.
The Dutchman died on Thursday (March 24) aged 68 after contracting lung cancer.
The death of the former Barcelona player and coach, whose creative genius on the pitch and inventive brilliance as a coach changed the modern game, prompted an outpouring of tributes to a figure hailed as doing more than anyone to "to make the beautiful game beautiful".
In his adopted home of Barcelona the loss was keenly felt as Cruyff was an iconic figure in the Catalan city, where their current world-beating team, featuring Lionel Messi, still bears the hallmarks of his attacking invention.
Josep Bartomeu, president of FC Barcelona, mourned the death of one of the club's greats on Saturday and attributed the club's success largely to Cruyff. "Johan's legacy is this: this Barça of victories and success. A self-confident Barça," he told journalists as the club opened its doors to the public at the Nou Camp stadium.
Fans and friends of Cruyff will be able to sign a book of condolences and pay their respects, watched by a huge portrait of the Dutch legend, until late on Tuesday (March 29). Barcelona's first team is expected to attend the memorial site on Tuesday after its training session.
The possession-based playing style Cruyff promoted as Barcelona coach, with an emphasis on relentless attack, has been widely copied and is credited with underpinning Barca's subsequent successes, as well as those of the Spanish national team.
Real Madrid President Florentino Perez visited rival club Barcelona to pay his respects to Cruyff. "Some say he changed Barça's history but I think he also changed the history of soccer, not only in Spain but of soccer worldwide," Perez said.
In his heyday in the early 1970s, Cruyff, slender, quick-witted and outrageously gifted, helped a generation of soccer fans across the world see the game in a different light. Unquestionably the best player in the world in that period, he was three times voted winner of the prestigious Ballon d'Or and has been compared with Pele and Diego Maradona.
Cruyff died surrounded by his friends and family at his home in Barcelona, according to his official website. A heavy smoker during his playing days, he later managed to quit cigarettes when he underwent heart surgery.
He confirmed in October last year that he was undergoing treatment for lung cancer.
Up and down
Recently the national teams have been busy preparing for Euro2016 with a host of international friendlies. It is the subject of our ''Up & Down'' segment this week?
A youthful England side are on the up after coming from two goals down to beat World champions Germany 3-2 in Berlin. Harry Kane hit England's first in style, Jamie Vardy's first goal for the national team was even better while Eric Dier's dramatic stoppage-time header sealed the win.
France are also on the up after beating the Netherland's 3-2 in Amsterdam.
Antoine Griezmann and Olivier Giroud scored in the first half and although the Dutch launched a comeback after the break Blaise Matuidi hit the winner on an emotional night in the Dutch capital.
Portugal are on the down after suffering a demoralizing loss at home to Bulgaria.
Marcelinho's first-half strike proved enough to sink the home side whose captain Cristiano Ronaldo spurned the chance to equalise from the spot – his fourth miss from 12 yards for club and country this season.
Road to Euro
We continue our road to Euro segment with the 2008 edition in which the two co-hosts flattered to deceive on home soil whilst making history, but not in a positive way.
Austria and Switzerland, Euro 2008 co-hosts, didn't expect to progress in the competition, but never imagined they'd make football history in a bad way
Indeed, for the first time, neither of the host nations managed to reach the knockout stage. In Group A, Switzerland became the first team to be eliminated from the tournament, after losing their first two matches. In Group B, Austria lost to Croatia and drew with Poland. But the loss against Germany condemned them to an early bath.
We might be wrong
Next weekend sees the return to action of the European leagues which are all on the final stretch now. Here you have our predictions for three selected matches, among them the highly anticipated El Clasico. If you don't agree with us, send us your predictions, using #TheCornerScores.
Liverpool 1-3 Tottenham
Barcelona 4 -2 Real Madrid
Lazio 0 -2 Roma
Tribute to Cruyff
This week, we won't be closing this episode with some bloopers but instead we leave you with some of the great moments from Cruyff's illustrious career. The Corner returns next Monday. see you then!