Shiite cleric Moqtada al-Sadr enters Baghdad's Green Zone
Comments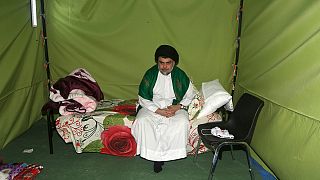 Shiite cleric Moqtada al-Sadr has entered Baghdad's fortified Green Zone, beginning a sit-in to call for government reform.
On February 13, Sadr gave Prime Minister Haider al-Abadi 45 days to tackle corruption and form a technocratic government.
Abadi is struggling to convince leaders from his political bloc to resign from their positions.
Thousands of Sadr's supporters have been protesting at the gates of the Zone for more than a week.
Baghdad: in migliaia nel nome di Moqtada al Sadr per un ultimatum al governo - https://t.co/pvp2KSuKeDpic.twitter.com/BzOAp7tayC

— BW Breaking News (@BWBreaking) March 18, 2016
Speaking ahead of entering the district, he encouraged the demonstrators to rally peacefully and remain outside the walls of the district:
"I say to you that I am the representative of the people. I represent you dear beloved protesters, I and only those who are with me, will enter the Green Zone. I will (stage a) sit-in inside the Green Zone and you sit at its gates. You should not move."
He walked in peacefully and unopposed by the armed forces guarding the Zone, which houses the prime minister's office, parliament and the US embassy – the largest in the world.