Angola: Rapper jailed on rebellion charges with other activists
Comments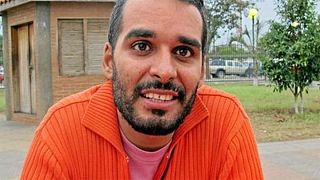 He has been on hunger strike.
Now Portuguese Angolan rapper Luaty Beirão has been jailed with 16 other activists for 'conspiracy to commit a rebellion against Angolan President Jose Eduardo dos Santos and to destabilise the government'.
Beirão, also accused of forging official documents, was sentenced to more than 5 years behind bars.
He and the other activists were part of a broader pro-democracy movement in the African country.
#Angola: 'A sad day for the freedom of expression' as 17 activists are jailed https://t.co/dTEBKO4Y8Zpic.twitter.com/OFDVH4ZrHe

— dwnews (@dwnews) 28 mars 2016