Sanders narrows Clinton's lead with Alaska and Washington wins
Comments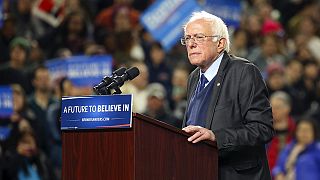 The US Democratic presidential contender Bernie Sanders has won nominating contests in Alaska and Washington state, eating away at frontrunner Hillary Clinton's lead.
The result from Hawaii is due later.
The senator from Vermont needs to win up to two-thirds of remaining delegates to prevent Clinton from being named the party's candidate to run for the White House in November's election.
Sanders has energised supporters including young voters with calls to rein in Wall Street and fight income inequality.