Going West: Sanders wins big in Hawaii
Comments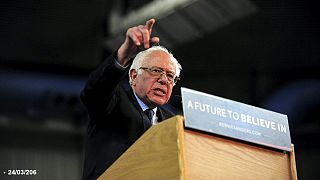 Bernie Sanders has claimed huge victories over rival Hillary Clinton in Alaska, Washington and now Hawaii.
The Democratic presidential contender's prospects of winning the nomination had taken a dent after losses in the southern states, but will be bolstered by the results ahead of the Wisconsin vote on April 5.
Noting the big crowds attending his rally, he is attempting to prove his viability as a candidate ready to beat Republican presidential contender Donald Trump. He also noted that the wins had made 'significant inroads' into Clinton's lead.
"I believe that our campaign is the campaign of energy, of momentum, which will lead to a large voter turnout in November and victory," Sanders told supporters in Madison, Wisconsin.
The Vermont senator still faces a mammoth task of winning up to two-thirds of the remaining delegates to catch up with Clinton.
Clinton
1,703
Sanders
985
Pledged delegates
Clinton
1,234
Sanders
956
Super delegates
Clinton
469
Sanders
29
Sanders has won over many young voters with his anti-Wall Street rhetoric.
A student who studies hard gets hit with insurmountable debt, yet bankers who crashed our economy got a bailout and bonuses.

— Bernie Sanders (@SenSanders) March 26, 2016
While Clinton focuses more on a November 8 showdown with Republican presidential hopeful Trump.
We need a president who will make comprehensive immigration reform a top priority and keep families together. https://t.co/SvSAabPmLs

— Hillary Clinton (@HillaryClinton) March 26, 2016