Brussels: three arrested in major police operations
Comments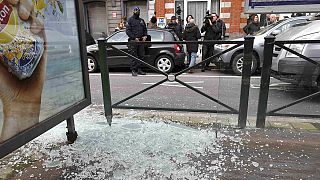 Three people have been arrested in major police operations in Brussels.
The Belgian prosecutor's office confirmed three people had been detained in total in Brussels following Friday's (March 25) operation, all of whom are related to the "thwarted French attack plot"http://www.euronews.com/2016/03/25/paris-anti-terror-raid-foils-imminent-french-attack/, made public by French Interior Minister Bernard Cazeneuve on Thursday (March 24).
One of the detainees was apprehended in the Schaerbeek area of northern Brussels. He could be seen with a small child, who was later led away by security forces.
Two of those arrested have been named as Tawfik A., and Salah A. The man detained following the Schaerbeek operation, has not yet been named.
Tawfik A., and the man arrested in Schaerbeek were wounded in the leg, according to the statement.
Interpol support
Interpol has announced it is providing Belgium with operational and analytical support in the wake of the Brussels attacks.
"To further build on the international information exchange it is currently facilitating in the aftermath of the attacks, INTERPOL will consolidate law enforcement efforts worldwide to locate and arrest individuals linked to Foreign Terrorist Fighter (FTF) networks through its operation Infra (International Fugitives Round-up and Arrest) model," it announced in an online statement.
Schaerbeek
Heavily armed police and military and bomb disposal experts were on the scene in Schaerbeek. Road blockades were also put in place.
EN IMAGES. Bruxelles : opération antiterroriste à Schaerbeek https://t.co/8sTnoRYywLpic.twitter.com/hA2IZuwiRA

— Le Parisien (@le_Parisien) March 25, 2016
Local Mayor Bernard Clerfayt is reported to have said three controlled explosions were carried out. Belga news agency claims one blast occurred during a police search of a house in the borough.
The operation comes three days after attacks on Brussels airport and a metro train, in which at least 31 people were killed and more than 270 injured. The ISIL militant group claimed responsibility for what is the worst such attack in Belgian history.
French President François Hollande says the Islamist militant network behind the Brussels bombings and November's Paris attacks is being destroyed. However, other threats remain, he said ahead of a meeting with former Israeli President Shimon Peres.
"We know that there are other networks. Even if the one behind the attacks in Paris and Brussels is in the process of being wiped out, a threat continues to remain," Hollande said.
The suspected airport bombers' last known location was an address in Schaerbeek. They are reported to have left that address in a taxi which took them to Zaventem airport on Tuesday (March 22).
In a statement on Friday (March 25), Belgian investigators confirmed the second airport suicide bomber was Najim Laachraoui. The information, they said, was based on DNA tests.
European operations
The raid in Schaerbeek is one of a number of operations said to have taken place across Europe in connection with the Brussels bombings. Earlier today, we heard Belgian police had arrested six people, while German police are reported to have arrested two people.
Belgian prosecutors said three of the six detained had since been released. Fayal C., Abou A., and a third, unnamed person were still being held on Friday afternoon (March 25).
In France, Interior Minister Bernard Cazeneuve announced on Thursday that a French national had been detained. He has since been named as Reda Kriket. The arrest, Cazeneuve said, "helped foil a plot in France that was at an advanced stage."
He continued: "The individual questioned is suspected of high-level involvement in this plan. He was part of a terrorist network that planned to strike France."
The French counter-terrorism service — the DGSI — made the arrest. It later carried out a raid on an apartment building in the Argenteuil suburb of northern Paris.