British and French navy rugby match breaks into mass fight
Comments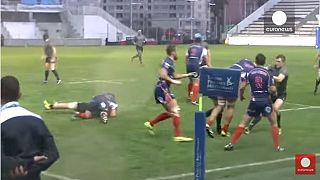 A rugby game between the British Royal Navy and its French equivalent, the Marine Nationale, broke into a mass fight.
Video from the game, nicknamed "le Crunch," shows Royal Navy players in grey, and Marine Nationale in blue, swapping punches and blows in a fight that involved players on the field, and substitutes too.
After the melee settled down a player from each side was sent off and the game continued. The French went on to win 28-6.
A spokesman for the British navy said disciplinary action could be considered against players who had misbehaved.
The British media have made much of the fact that Toulon, a big navy base in south east France, was the scene of a major battle between the two countries during France's revolutionary war.
However recently the English have been more popular there thanks to the hero status afforded to England international Jonny Wilkinson who spent five seasons at the local club.