Six arrested in Brussels after Tuesday's suicide attacks
Comments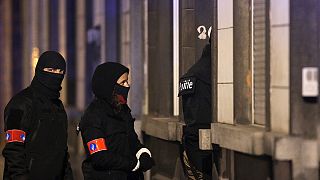 Belgian authorities say six people have been arrested as part of the investigation into Tuesday's suicide bombings in Brussels.
Three of them were apparently detained in front of the federal prosecutor's office, which said the arrests came during police searches in the neighbourhoods of Schaerbeek and Jette, as well as in the city centre.
It comes after the authorities lowered the security alert level down a notch from four – the highest level – to three, and as the search continues for at least one Brussels attacker now on the run.
Police are looking for the man captured by a security camera at Brussels airport along with two suicide bombers.
The man who was wearing a hat and a cream jacket has not been named. There are reports that a suspected second bomber in the attack on the metro is also being sought.
The self-proclaimed Islamic State group claimed responsibility for the attacks which killed at least 31 people and wounded 270.
Turkey's accusations that it had deported one of the suicide bombers and had warned Belgium about him prompted two Belgian ministers to offer to resign on Thursday.
The Prime Minister Charles Michel refused to accept their resignations, instead asking Interior Minister Jan Jambon and Justice Minister Koen Geens to stay on.
As questions continue to be raised about European countries' response to the threat from Islamist extremists, Belgium is facing more questions about alleged intelligence failures.
In Washington, Reuters has reported – quoting unnamed sources – that two brothers who blew themselves up in this week's attacks were on a US terror watch list.
BREAKING: Two brothers among #Brussels attackers were on U.S. terrorism watch list: sources

— Reuters Top News (@Reuters) 24 March 2016
But the report did not say when the pair, Brahim and Khalid El Bakraoui, were added to the list and the information has not been confirmed.
The Dutch Justice Minister Ard van der Steur has denied reports that Brahim El Bakraoui – who Turkey said had been deported to the Netherlands – was on Dutch or international wanted lists.
#Brussels: the three airport suspects named. Follow our live blog for all the latest https://t.co/okZD1KWPlWpic.twitter.com/QVjuUR9XN7

— euronews (@euronews) 23 March 2016