Rolling, running, riding to the interview, but would you give this guy a job?
Comments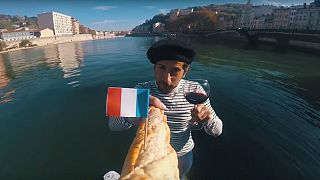 Romain Corraze, really, really wanted to get a job with Californian camera-maker GoPro.
So the 30-year old Frenchman quit his job in Lyon and headed off to America.
Rather than working on his CV, Corraze decided that the best way to impress his new employer would be to come with the most adventurous film he could make of his 5,809 mile journey.
The video above is an abridged version, you can follow the full journey on his website http://www.beahero.fr/
But would you give him a job? Let us know what you think.
GoPro job quest

Instead of sending a CV, this guy decided to rollerskate, paddleboard, cycle and run to get a job interview at a company thousands of miles away? Worth a job, do you think? http://www.euronews.com/2016/03/24/rolling-running-riding-to-the-interview-but-would-you-give-this-guy-a-job

Posted by euronews on Thursday, March 24, 2016