Republic of Congo president is re-elected
Comments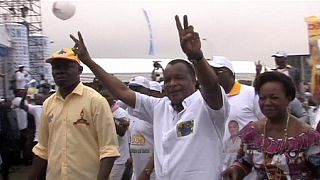 The Republic of Congo's long time President Denis Sassou Nguesso has claimed victory after Sunday's presidential poll.
According to official results he garnered 67 percent of the vote, avoiding a run-off.
However opposition leaders are contesting the results claiming Sassou Nguesso finished no higher than fourth.
On Wednesday police fired tear gas to disperse opposition supporters.
Tensions in the equatorial African country have been high since Sunday's election which was marred by a government imposed blackout of the media and the internet, ostensibly to prevent dissemination of what was called "illegal voting results".
Before then at least 18 people were killed by security forces ahead of a referendum in October that removed term and age limits that would have prevented Sassou Nguesso from running again.
The 72-year-old former army officer now faces his third seven year term.
The election is being watched closely across Africa where several long-ruling presidents are trying to remove constitutionally mandated term limits to stay in power.