Radovan Karadzic: war crimes trial verdicts
Comments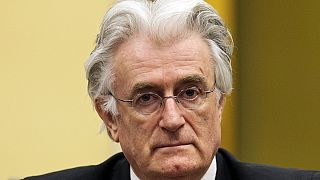 Former Bosnian Serb leader Radovan Karadzic was due to learn his fate later on Thursday (24 March) when the
International Criminal Tribunal for the former Yugoslavia delivers its verdicts in The Hague.
Among the main charges is that Karadzic, who was arrested in 2008 after 11 years on the run, controlled Serb forces that massacred 8,000 Muslim men and boys in Srebrenica in 1995 after overrunning the supposed UN-designated "safe area."
Karadzic, who once headed the self-styled Bosnian Serb Republic and held the title of supreme commander of its armed forces, is charged with two counts of genocide, the second for a campaign of purging Bosnian Muslims and ethnic Croats from towns around the country.
The massacre has been described as Europe's worst atrocity since World War ll.
Fifty-six-year-old Amir Kulagic survived the massacre by hiding in some woods.
Amir told euronews he lost every male family member. He said the only acceptable verdict for Karadzic is a life sentence.
"We have to show the extremists – and not only the Serbs but the extremists all around the world – that those who committed genocide or other war crimes, those will get their punishment in the end," Amir told euronews.
Since the massacre, thousands of remains have been exhumed from unmarked graves in an attempt to identify the vitcims.
Euronews reporter Andrea Hajagos said that during the last 21 years, 8,372 victims have been identified.
Related:Bosnia buries Srebrenica victims identified 19 years after the massacre
Spent emotional day in Srebrenica, meeting brave survivors of genocide & remembering 8,372 husbands, fathers & sons. pic.twitter.com/n8ovSSKAsZ

— Usaama Kaweesa (@UsaamaK) March 22, 2016