Radovan Karadzic war crimes: A historic verdict
Comments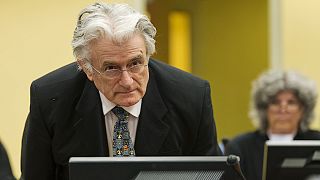 March 24 will mark a day that Bosnia has been awaiting for two decades: the verdict in the war crimes trial of former Bosnian Serb President Radovan Karadzic.
I don't know what is more important, justice or truth. Both should be a part of this verdict
The UN International Criminal Tribunal for the former Yugoslavia is scheduled to hand down its verdict following a trial that has lasted more than six years.
Alleged crimes
Karadzic has been indicted on two counts of genocide, five counts of crimes against humanity, and four counts of violations of the laws or customs of war.
It is alleged that Karadzic is "individually criminally responsible" for crimes, including:
The killing of over 7,000 Bosnian Muslim men and boys of Srebrenica through both organised and opportunistic executions.
Acts of murder that formed part of the objective to spread terror among the civilian population of Sarajevo through a campaign of sniping and shelling, carried out between April 1992 and November 1995.
The detention of thousands of Bosnian Muslims and Bosnian Croats in detention facilities under conditions of life calculated to bring about their physical destruction.
Will #Karadzic's courtroom drama end in disappointment when #ICTY delivers verdict March 24? https://t.co/fQoce3jsVLpic.twitter.com/Tur7ktbh5i

— Balkan TJ (

BIRN

) (@BIRN_BTJ) March 16, 2016
Scars of Srebrenica
Hasan Nuhanovic survived the Siege of Srebrenica and today is an activist and author.
In 1992, he and his family fled the violence in their hometown of Vlasenica, but far worse was to come when they reached Srebrenica.
Nuhanovic found work an interpreter for UN forces in the town and was thus allowed to stay on the UN compound. But his parents and brother were not.
"My mother is dead, my father is dead and my brother is dead. I lived in Srebrenica during the war. So I not only survived the massacre in July of 1995 but I survived the suffering that lasted for three and a half years. We were totally besieged and starved and bombed," he explained.
In September 2013, Nuhanovic won a court case against the Netherlands. He argued that the UN Dutch peace keeping forces in Srebrenica had failed to save those the UN had promised to protect.
He said of the upcoming Karadzic verdict: "I don't know if it will change my life personally, but it might affect the overall situation in this region because I don't think this place is politically stable.
"We have statements coming everyday from leading Bosnian Serb politicians, or their leading politicians, saying that this country should not exist. And this is exactly what Karadzic tried to do."
A country divided
In November 1995, the Dayton Accords ended the Bosnian War. The conflict had killed an estimated 100,000 people and had displaced two million – half the country's population.
The accords divided Bosnia into two separate entities along ethnic lines: the Federation of Bosnia and Herzegovina, made up mostly of Muslims and Croats – and the Republic of Sprska, made up largely Serbs.
With Dayton, there was a tacit agreement that displaced people would be allowed to return to their homes.
Mirsad Duratovic had fled in 1993, seeking refuge in Germany.
He returned in 2001 to his home village of Biljani in the northwest of the Republic of Sprksa.
Duratovic's father and brother, along with other members of his family, were all killed in July 1992, during what became known as the Biljani massacre in which more than 140 people were killed.
His father was killed and Duratovic was sent to a concentration camp, while his brother was allowed to go home. He later found out that his brother had been far from the fortunate one.
"My brother and I and two others were taken to the village centre. We were then separated. They let my brother and cousin go home. And I got into a bus that went to the Keraterm camp. But it was full so they took us to Omarska, after Manjaca and Trnopolje," Duratovic recalled.
"Meanwhile my brother and cousin on their way back, were stopped by Serb police and killed right there. All this happened in one day."
It took 13 long years for Duratovic's brother's and father's remains to be identified and then buried.
He explained that a verdict that finds Karadzic guilty of genocide will bring some satisfaction, but not justice.
"The most painful thing for us is Karadzic's legacy, which continues. It's the Republic of Sprska which was founded on genocide and the bones of my brother, my father, my grandmother and 47 other members of my family.
"Justice for the victims will be the sentencing of Karadzic and Mladic but also the dissolution of the Republic of Sprska founded on genocide. That would be the real justice for the victims."
Too little, too late?
Photographer Milomir Kovacevic is a Bosnian Serb who lived in Sarajevo throughout the siege and later emigrated to France.
Ahead of the Karadzic verdict, he returned to Sarajevo for an exhibition of photographs, entitled 'Children of War', that he took during the siege.
Kovacevic said that Karadzic cannot be held solely accountable for some of the crimes of which he has been accused.
"We often say that Karadzic is guilty. Is he really guilty? Because one (person) couldn't do all that alone. There were so many armies," Kovacevic opined.
"Why didn't the UN, who were here, why didn't they do anything? There are so many things, which are complicated. I don't like to talk about it because there was so much manipulation around this. We were more or less abandoned by the world and now the world is trying to hide behind Karadzic. I don't know…"
Milovan Bjelica, a member of the wartime Bosnian Serb leadership, supports this.
Karadzic "never made any decisions by himself," Bjelica said.
"He would organise meetings with those close to him: the vice-president, the president of the parliament, the prime minister, the generals and have long discussions with them. Radovan Karadzic was a true democrat. Even during the war, there were many who criticised him for not wanting to declare war."
There is little doubt that regardless of the verdict on Karadzic, not everyone will be happy.
But there is some hope is that the verdict will help close one of the darkest chapters in the history of the Balkans.
Hasan Nuhanovic said that he hopes "at least one part of Serbian society will accept the verdict as justice, the truth."
"I don't know what is more important, justice or truth. Both should be a part of this verdict. It's not just about the punishment, how many years the person will spend behind bars – it's probably more about what is written there. That is about the only consensus that we can have about what happened during the war time."
with the contribution of Sarah Chappell