Brussels must be a wake-up call for Europe says Israeli security expert
Comments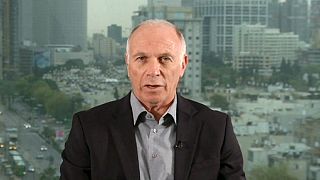 Following comments by several of his ministers after the Brussels attacks Israeli Prime Minister Benjamin Netanyahu has assured Belgium of his country's support, and called for a more co-ordinated approach in fighting terror.
I think that police forces should get into problematic neighbourhoods and take care of those who are prone to or involved in terrorism, but let the others live, and even get assistance from the neighbourhood
Intelligence and Transport minister "Yisrael Katz":
http://www.jpost.com/Israel-News/Israeli-minister-Katz-If-Belgium-continues-eating-chocolate-it-wont-be-able-to-fight-terror-448924 suggested Belgium lacked the stomach for the fight.
"In Paris or Brussels or San Bernardino or Tel Aviv or Jerusalem. Terror must be condemned equally and it must be fought equally. Israel stands ready to cooperate with all the nations in this great struggle. These terrorists seek our destruction; they will fail. But if we work together, they will fail a lot sooner," said Netanyahu.
Katz and several colleagues suggested Belgium was more interested in enjoying life, eating chocolate, and posing as democratic liberals than recognising they were at war with Islamic terrorism.
Katz's comments were widely criticised, but they came on the heels of French Finance Minister Michel Sapin's remark that Belgium was naive about the spread of radical Islam in the country.
Israeli security expert hopes Brussels attacks will be watershed moment for Europe
Euronews has spoken to Yoram Schweitzer in Tel Aviv. He is a former head of the Israeli military's counter-terrorism section, and also an expert at the Institute for National Security Studies, an Israeli think tank.
Damon Embling, euronews:
"As an Israeli citizen and as a counter-terrorism expert, what were the first thoughts that came to your and your colleagues minds' when you saw the Brussels attacks unfolding?"
Yoram Schweitzer:
"That unfortunately, what was expected, happened. I don't think it was strategically a surprise, because we anticipated, we thought, we saw that IS was preparing international terror squads."
Damon Embling:
"What is your assessment of the Belgian and European intelligence agencies effectiveness in fighting these terrorist cells?"
Yoram Schweitzer:
"I'm sure that the capabilities are there. The European security services, the intelligence corps in Europe have proven that they can fight a challenge while they basically thwarted most of the al-Qaeda and AQ affiliated attempts during the last decade."
Damon Embling:
"The perceived intelligence failures around the Brussels attacks are more than worrying. How did they get it wrong? Do you think these attacks might have been prevented?"
Yoram Schweitzer:
"I think there were some malfunctions and some failures that cost dearly. But…and it should be checked, it's part of the drill of fighting terrorism, not everything will be successful, not all the operations will be intercepted."
Damon Embling:
"The latest security assessment says that ISIL sent at least 400 attackers into Europe, working in cells. Also, scores of European fighters who went to Syria returned to their countries. Is it realistic to expect the intelligence agencies to be able to monitor all suspects?"
Yoram Schweitzer:
"Now, I think that the security services with the backing of prime ministers, and the leadership in these countries, should prepare for it, should allocate resources, should increase immensely the manpower, qualified manpower of the intelligence corps, of the police."
Damon Embling:
"At the same time, it seems European countries are now breeding grounds for terrorism, Molenbeek in Brussels is already called Jihad Central. What does it take to penetrate these networks?"
Yoram Schweitzer:
"It should be done very carefully because the heart, the basic trick of terrorism is to try to solicit a much harsher indiscriminate response towards the non-radicalised population. I think that police forces should get into problematic neighbourhoods and take care of those who are prone to or involved in terrorism, but let the others live, and even get assistance from the neighbourhood."
Damon Embling:
"At some airports elsewhere passengers are stopped before the terminal, their baggage is screened and documents checked. Do you think that's something that we should be doing in Europe?"
Yoram Schweitzer:
"The trick is to let people move as freely as they can, not to disrupt the freedom of movement, but then to be prepared for suspected people who are about to carry out those attacks. But we must not capitulate, we must not totally turn upside down our way of life in Europe and other places as well."
Damon Embling:
"In light of the Brussels and Paris attacks, do you think it is a wake-up call for Europe?"
Yoram Schweitzer:
"It should have been a wake-up call a long time ago. I hope now that it has sunk into the minds of those who are responsible for allocating resources."