Paris shows support to sister city Brussels
Comments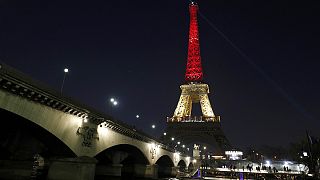 Paris was one of the first cities to begin wearing the colours of Belgium in solidarity after the attacks in Brussels. Hundreds of locals gathered in on the square outside the Paris town hall including the city's major Anne Hidalgo and the Belgium ambassador.
Many compared their feelings to those they had experience last year after terrorism hit the French capital
"For us, Brussels is a bit like a twin city, so it is extremely moving to see this city targeted today by the same attacks Paris encountered a few months ago," said one Parisian.
"We are very sad, we're maybe more frightened but this does not prevent us from gathering here and overcoming this fear and to continue to live," said another.
While shows of solidarity have come from many quarters, the pens of artists have also been at work.
Images have been sent around the world via social media including one by the celebrated cartoonist Plantu who has aptly conveyed Parisian sympathy.
LESATTENTATS CE MARDI 22 MARS À BRUXELLES.
(Le dessin du Monde) pic.twitter.com/9OCYMhOCpf

—

PLANTU

(@plantu) March 22, 2016
While much loved characters from France and Belgium, Obelix and Tintin , can been seen comforting one another.
#Bruxelles: les larmes de Tintin et Obélix, la colère du Capitaine Haddock, le web (ré)agit https://t.co/QWmKrqzwBhpic.twitter.com/mMrMiUZPup

— TF1 le JT (@TF1LeJT) March 22, 2016