European monuments glow with the colours of Belgium
Comments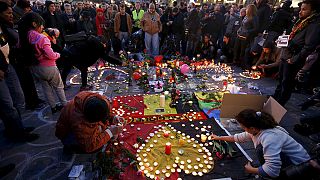 Paris, which just four months earlier suffered deadly terror attacks, made the Eiffel tower turn red, yellow and black in solidarity with their neighbours in Belgium, as along their borders security was tightened with an active manhunt underway.
Another expression of support came from Berlin, where the arches of the Brandenburg gate were lit up to pay tribute to the victims of the Brussels attacks.
Italy's iconic Trevi fountain glowed with Belgium's colours – all very visible expressions of unity in the face of terror.