Brussels travellers struggle with security checks
Comments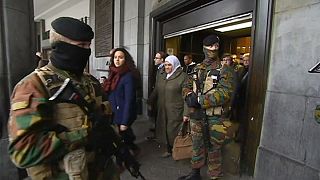 After Tuesday's terror attacks, travellers in and out of Brussels, and those moving around the city, have been subject to a major security operation with troops and police checking bags.
There were long delays at the city's railway stations with passengers limited to using just one entrance at each.
Conseil: postposez votre départ! Les temps d'attente aux gares bruxelloises sont longs SNCB</a> <a href="https://twitter.com/hashtag/Bruxelles?src=hash">#Bruxelles</a> <a href="https://t.co/dV8iSj4lXr">pic.twitter.com/dV8iSj4lXr</a></p>&mdash; ZPZ PolBru (zpz_polbru) March 23, 2016
International rail services by Thalys and Eurostar have resumed but the authorities advised people to avoid the queues at stations by only travelling if necessary.
Among those who were being checked at Brussels Central station, one man said he was reassured by the extra security: "I think it's OK. I'm feeling a lot more safe then yesterday."
A woman passenger said: "It's remarkable, maybe a bit too much. But it's still understandable. However she added she couldn't say it made her feel safer.
Contrôle des sacs devant gare de Bruxelles Central.. Résultat : amas de personnes à l'extérieur… #absurdiepic.twitter.com/SveSfiCrbj

— Ex-MaitreRenard (@_maitrerenard) March 23, 2016
Public transport was patchy, with some metro station still closed and a heavy security presence.
Buses and trams took up the slack though there were fewer passengers than normal.
Traffic on the roads was reported light, except heading to Charleroi airport, 55 kilometres outside the city, where many flights were diverted from Zaventem, which remains closed.
Belgium's tourism industry – which last year accounted for over five percent of the country's gross domestic product – was only just beginning to recover from a difficult winter after a five-day security lockdown in November.
The overall economic damage from the terror attacks is estimated at around four billion euros by ING bank chief economist Peter Vanden Houte.
"Repairs of buildings account for only a small part of the costs. Cafes, restaurants and shops remained closed yesterday (Tuesday) and may not see many customers in the coming days. It is also likely that security measures will deter people from frequenting them," he told the Belga news agency.