Brussels shows strength in the face of fear
Comments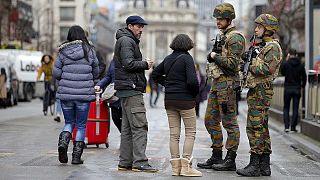 An eerie calm hangs over Brussels, a day after bomb attacks claimed the lives of dozens of people.
Amid a heightened presence of armed forces on the streets, some local residents are going about their day-to-day business, determined to show strength in the face of fear.
"I think that people, some people, don't know what to do because they're afraid," said Patricia Coppens, a commuter. "But I think we should continue living our lives like we did before. It is indeed a very sad day and we woke up in another country, in another Europe."
Silence and security: the day after the Brussels attacks - in pictures https://t.co/dsR6smYaqnpic.twitter.com/F0S85hWToK

— The Guardian (@guardian) March 23, 2016
Teacher Anne-Marie Selys described the reaction among her students as the news of the explosions spread.
"Teaching wasn't easy yesterday, the kids were in panic, they were checking on their mobile phones, they wanted to know what was going on. Then they heard about the explosion on the metro as well. Some kids started to cry because they were living nearby, they were worried about their parents."
Others described feeling as though they'd been living in a state of siege, feeling a sense of helplessness, since last November's Paris attacks.
"We feel hatred and rage. We're scared and annoyed because we can't do anything. Our king told us to remain calm, but how can we do that in such a situation?" one man asked.
In Belgium, the terror alert is at the highest level. With armed forces carrying out checks at transport hubs in the capital, residents may not see a return to normality for some time to come.
Brussels after the attacks, in photos: https://t.co/QtQWoy5i4kpic.twitter.com/SMRq2gX7iK

— The New York Times (@nytimes) March 23, 2016