Belgian 'jihadists' more like street thugs, says anti terror expert
Comments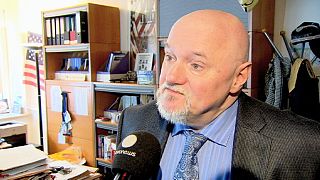 Euronews has spoken to terrorism expert Claude Moniquet about Belgian authorities' handling of the ongoing terror investigations.
The former French intelligence agent was speaking to Gregoire Lory.
Euronews: Do these attacks reveal weaknesses in the fight against terrorism in Belgium?
Claude Moniquet: There is a problem in assessing the risk of people and in that sense I mean the Belgians have a problem that we all do. Western intelligence services are tools that hail from the Cold War and have been formated and educated to work within those structures. States, political parties, the KGB, the Red Army and so on. Here we are confronted with a group, Daesh, where we need to understand its complexity. We have the overall picture. But when we talk about the details and unfortunately the details are the operational element. It's the risk of those people, we are less good at because the culture needs changing and because we are facing people who are not like the jihadists of the past – of 10 to 15 years ago. But people like those thugs like Bakraoui,for example, who became radicalised in 6 months to one year. And so those who could stay longer underneath the radar without being picked up.
Euronews: So it's an incorrect analysis of the situation, of the evolution of terrorism?
Claude Moniquet: I think there's an analytical problem across all western intelligence services but especially in Belgium and France. There is clearly a problem with analysis. I think it's a cultural problem too. I think that we have to be able to mix classic intelligence work which is based on certain structures and police services, which work with organised groups and who understand the way things work on the streets.
And I think we need to work with units in which work together with a clear vision. Because we can see Abdeslam's fleeing and the supporter of Abdeslam, these aren't jihadists. They are street kids.
They are organised groups of hooligans, which were providing assistance to a friend. They won't drop a friend and even if they aren't those same jihadists, they said: "Ah, it's my friend Salah, I'll help him."
Euronews: Were you surprised by the scale of the products found in the apartment in Schaerbeek?
Claude Moniquet: I think the type of products, which have been discovered in the flat in Schaerbeek which has been raided during the night, indicate that we are facing something which has been planned for quite a long time. When we see products found in a flat such as 150 litre of peroxide. It's a product that is freely available. If you can buy 1, 2, 3 here and there. No one will ask you any questions. If you buy 20 or 30 or 150, that will trigger some suspicion. It is possible that shop keepers will call the police as these people know what they are used for. So you'd have to amass it a little by little over a very long time frame. So i think this was planned over weeks and months.
Euronews: Did Abdeslam's arrest speed up these attacks in Brussels?
Claude Moniquet: The attacks, clearly, are not a revenge attack following the arrest since it would have been prepared in 3 or 4 days. It is possible that the arrest was expected and the implementation was sped up. After all what do we know? Salah Abdeslam was arrested Friday with Mounir Choukri, a wanted man himself, an undercover Daesh operative. He was checked on October 9 near Ulm, Germany and whose name appears nowhere in the records of 13 November so he was not involved in the attacks there. He was preparing something clearly. Three days earlier the two men escaped arrest in an apartment where there was Samir Bouzid, one of logistical planners of 13 November. In this apartment there were Kalashnikovs and detonators, which could have been used to blow up the bombs that exploded yesterday.So one might think that Salah Abdeslam was completely aware of what was coming. Moreover it seems that in the note left by El Bakraoui and that is pretty rough, it seems, he mentions this possibility. He said if I do not do something soon, I'll end up like him in a cell, meaning Salah Abdeslam.