Impossible to prevent all terror attacks, warns top security analyst
Comments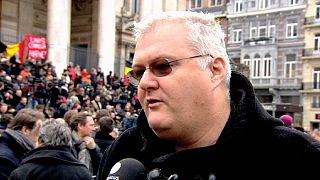 Euronews spoke to Serge Stroobants, a defence analyst at the Institute for Economics and Peace think-tank.
Stroobants, who also served with a NATO mission in Bosnia, teaches at the international affairs faculty of Vesalius College in Brussels.
He gave his take on how to strike the balance between fighting terror and protecting civil liberties in Europe.
euronews: There has been a lot of criticism towards the Belgian security services about how they have handled this over the past few months. What would you say to those criticisms?
Serge Stroobants, Institute for Economics and Peace: I would say that it's utopian to think that you can live a 100 percent secure societies. We live in the west in general in very resilient societes. We try to secure up to 100 percent, I think we succeed up to 99 percent. A lot of attacks have been defeated. But there is always a chance, a very small, small chance to be hit. And unfortunately this happened yesterday.
euronews: So what you are saying is without completely throwing out our values and our way of life, we can never really totally stop terrorism. Is that what you are saying?
Stroobants: I am saying that there is a choice. Either you want to live in a very secure society – a society with a lot of security forces – or you want to stick to your way of life and your liberties that you are used to live together (with). I think that Brussels is a perfect place and a perfect example to look and watch how people of so many nationalities…..I mean, 40 nationalities were hit yesterday in the attacks, so people of all those nationalities are able to live together and do this in a very good manner.
euronews: And what needs to happen at the European level, in terms of tackling terrorism and intelligence sharing?
Stroobants: I think the European Union is also doing whatever it takes to tackle the issues. Within all bodies of the European Union, there are specialists of counter-terrorism. Also within NATO for example, to cite the other international organisation based in Brussels. So counter terrorism is taken care of. When it comes to an international organisation such as the EU or NATO, there is the extra difficult of bringing the 28 member states around the table and sharing the information. But I think after the Paris and Charlie Hebdo in January last year, the intelligence sharing has been in earnest. And this is why, for example, last week Salah Abdeslam was caught in a joint operation between French and Belgian security services.