Travellers describe fleeing for their lives from Brussels airport bombings
Comments
By
Euronews
with
Euronews reporter, Reuters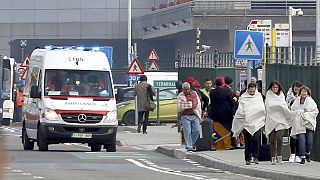 At Brussels airport rescuers said many of those hit by the bomb blasts on Tuesday morning had injuries to their legs, suggesting at least one bomb was at ground level, probably in a suitcase.
Alphonse Youla who works at the airport, said: "I helped carry out five dead, with their legs destroyed, as if the bomb came from a piece of luggage."
One French eyewitness described to euronews a series of blasts in the packed departure lounge.
She seemed to believe there were three explosions. "One was right above our heads, we saw the wall crack and debris started falling. The second was much stronger, and less than 15 seconds later. We started running towards the exit and that's when we heard a third explosion. The windows were blown out. There was black smoke, and behind it there were some children. Some of the airline employees were injured, people were coming out and there was a lady in front of me with an open wound."
Outside the terminal there was chaos as people fled.
A Spanish traveller told euronews he was just arriving for a flight when a bomb exploded in the building: "As we opened the door of the bus, we heard a huge explosion! And when I got off the bus, I saw glass falling everywhere. I saw people running away as fast they could. At that moment, I was in a state of shock. At first someone said it was a gas explosion, but then I saw soldiers running like crazy into the airport. Everyone started to run away and I did as well."
A report by Belgium's public broadcaster VRT said an unused explosive belt was found in the airport and a Kalashnikov assault rifle lay next to the body of an attacker.
Euronews reporter Julian Gomez at the scene said there was a long and thorough search for any further bombs or attackers: "Hours after the first explosion there was a steady stream of police cars and ambulances arriving at the airport, which remained cordoned off for a distance of nearly two kilometres from the terminal. And during that time passengers continued to emerge from the terminal in a state of shock."
Brussels airport said it had cancelled all flights and will not be open on Wednesday.