Panic and chaos follow Brussels airport blasts
Comments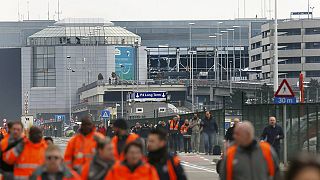 Scenes of chaos and panic could be seen in Brussels shortly after two blasts ripped through Zaventem Airport at around 8am CET. At least ten people were killed and around a hundred injured as a result.
Brussels' regional governor said three bombs had been taken into the airport – one didn't explode. Belgian media report an unexploded bomb belt was found at the scene.
One blast 'probably suicide bomber'
The federal prosecutor said one of the explosions was most likely triggered by a suicide bomber.
Eyewitnesses report hearing Arabic and gunfire shortly before the blasts, which are believed to have occurred at a check-in desk. Belgian police later said they found a Kalashnikov assault rifle next to the body of a suspected attacker, public broadcaster VRT reported.
Airport closed until further notice
Thousands of people pass through Brussels International Airport every day.
One of Europe's busiest transport hubs, it will remain closed on Wednesday, CEO Arnaud Feist as announced. He says a decision has yet to be taken on whether flights will resume on Thursday.
The airport will be closed tomorrow, 23 March. Tomorrow we'll evaluate & decide if @BrusselsAirport will resume operations on Thursday .

— Arnaud Feist (@arnaudfeist) March 22, 2016
Update in #BrusselsAirport : The cars remain unreachable as long as the airport is a "no zone" by the decision of the police / authorities

— Interparking (@Interparking) March 22, 2016
Security stepped up worldwide
The blasts have provoked heightened security measures at transport centres worldwide.
British police have said they will step up their presence. New York and New Jersey airports have also increased security and Germany, France and the Netherlands have announced extra surveillance measures.
I have chaired a meeting of Cobra – we are increasing police presence at ports, airports, Tube stations and international railway stations.

— David Cameron (@David_Cameron) March 22, 2016
The terrorists behind today's atrocities attack our way of life and they attack us because of who we are. We will never let them win.

— David Cameron (@David_Cameron) March 22, 2016
The last major incident at a European airport was in Glasgow in 2007, when two people attempted to drive a jeep full of propane canisters into the terminal building.