Tennis tournament boss resigns over 'I'd go down every night on my knees' comment
Comments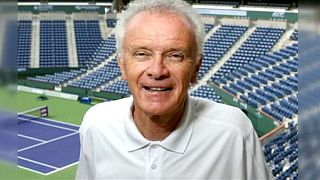 Raymond Moore, BNP Paribas Open tournament director has resigned following derogatory remarks about women's tennis.
Tennis tourney director Moore quits after criticizing women pros: https://t.co/DPdcDb7lmZpic.twitter.com/91bErs1y0u

— AP Sports (@AP_Sports) March 22, 2016
Moore said women's tennis rides on the "coattails of men" ahead of the final at Indian Wells between Serena Williams and Victoria Azarenka.
Raymond Moore, Indian Wells tennis tournament director, resigns over sexist comments https://t.co/gFqv5gFLhapic.twitter.com/Qurpi7wSuY

— HuffPost Sports (@HuffPostSports) March 22, 2016
His comments sparked an avalanche of protest, this is what he said:"You know, in my next life when I come back I want to be someone in the WTA, because they ride on the coattails of the men. They don't make any decisions and they are lucky. They are very, very lucky. If I was a lady player, I'd go down every night on my knees and thank God that Roger Federer and Rafa Nadal were born, because they have carried this sport."
Despite a public apology the pressure to go was too much.
Disappointed in #RaymondMoore comments. He is wrong on so many levels. Every player, especially the top players, contribute to our success

— Billie Jean King (@BillieJeanKing) March 20, 2016
Martina Navratilova: Indian Wells CEO Moore's comments "really disheartening"https://t.co/XpFYzzYWO8pic.twitter.com/8y5YmyMKZn

— SI Tennis (@SI_Tennis) March 21, 2016
Indian Wells tournament owner Larry Ellison revealed Moore's resignation and stated his support for equality in the sport.
Serena Williams wins the award for best photobomb ever in Victoria Azarenka's trophy photo: https://t.co/DtWrcpCjhGpic.twitter.com/PGlbTqtoxi

— espnW (@espnW) March 22, 2016
World number 1 Serena Williams expressed her fury at the remarks:"You know, there's only one way to interpret that. Get on your knees, which is offensive enough, and thank a man, which is not – we, as women, have come a long way. We shouldn't have to drop to our knees at any point."
Victoria Azarenka had some things to say about the controversial remarks by Raymond Moore: https://t.co/raNUsvWFnZpic.twitter.com/arCVf5bDfg

— espnW (@espnW) March 21, 2016
Novak Djokovic's waded into the storm that led to accusations of sexism against him. The Serb questioned whether women should should be paid the same as men as men's tennis is more popular.