Verdict due in Savchenko trial in Moscow
Comments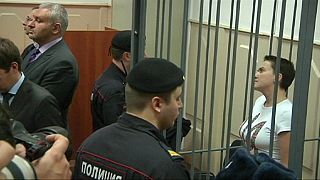 Nadia Savchenko, the Ukrainian pilot on trial in Moscow charged with complicity in the deaths of two Russian journalists will hear her fate today.
Savchenko faces up to 25 years in jail if found guilty .
The 34 year-old is viewed as a national hero by many Ukrainians resentful of what they see as Kremlin backing for pro-Russian insurgents trying to break Kiev's control over eastern territories.
At the beginning of March Savchenko went on hunger strike to protest against the length of what she said was unjust legal process after the judge in her trial adjourned proceedings just as she was about to deliver her final speech. Savchenko stopped hunger strike soon after she gave the final statement in court on March 9.She has denied any involvement in the deaths.