Thousands flock to Mexico's Pyramid of the Sun to mark spring equinox
Comments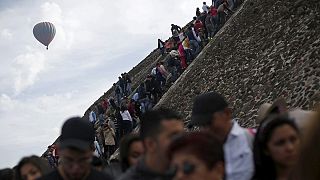 Visitors flocked to Mexico's Pyramid of the Sun on Sunday (March 20) in the sacred city of Teotihuacan, to perform the traditional raising of their hands during spring equinox celebrations.
Arriving in #Teotihuacan welcome by #padmalaya with an #Aztec#sun#dancepic.twitter.com/KhghhRyvsA

— Swami Vishwananda (@vishwananda) March 21, 2016
The idea is to receive the first rays of the sun and to gather energy for the year. Believers also say its an opportunity to connect with a forgotten past.
Many wore white clothing which is tradition at the annual event. The name Teotihuacan, " The Place where Men Become Gods" was given by Aztecs who inhabited the ares 700 years after it had been abandoned around 600 AD.
The Aztecs were stunned by the monumental buildings and precise city planning.
The spring equinox occurs in the middle of March and marks the beginning of spring in the northern hemisphere.
Experts believe that The Pyramid of the Sun was probably a fertility symbol built around 80 AD and shaped like a mountain to counteract the evil influence of two nearby volcanoes known to have gone through unusually violent eruptions at the time.