North Korea fires five 'projectiles' into the sea
Comments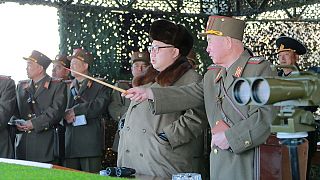 North Korea said it has fired five short-range projectiles amid heightened tension over the country's nuclear and rocket programmes.
South Korea said the unidentified projectiles were launched from Hamhung. They landed in the water 200 miles east of North Korea.
On Friday, Pyongyang fired two mid-range ballistic missiles into the sea in defiance for new UN and US sanctions.
The measures were implemented after nuclear and rocket tests earlier this year.
South Korea and the United States met in Seoul on Monday to discuss possible further sanctions against the North.
Pyongyang has threatened to test a nuclear warhead and ballistic missiles capable of carrying a nuclear warheads soon