Myanmar's president-elect gives first speech to parliament
Comments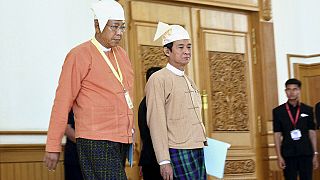 A full house for first speech
Clarifies his plan for government reorganisation
Tensions simmer between

NLD

and military ahead of investiture on April 1
The news
The president-elect of Myanmar has given his first speech to parliament.
#myanmar president-elect Htin Kyaw: new govt focused on quality rather than quantity, hence reduced ministries. pic.twitter.com/MkwBrD1Gpe

— May Wong (@MayWongCNA) March 21, 2016
Before a full house, Htin Kyaw clarified his plan to reorganise the country's administration which cutting the number the ministries by a third.
He pledged job security for public servants.
Addressing parliament, Htin Kyaw said the decision will save money which can then be used in other areas.
"We can use that five billion kyats (more than four billion US dollars) which were saved by cutting back on ministries and ministers to improve our countrys education, health and rural development sectors," Kyaw told parliament.
U Htin Kyaw proposes to slash ministries from 36 to 21, new ethnic affairs min #Myanmarhttps://t.co/qjktcz6eHLpic.twitter.com/kPp5l5UWcy

— Myanmar Now (Eng) (@Myanmar_Now_Eng) March 17, 2016
The new plan was put forward last week by the National League for Democracy, led by Aung San Suu Kyi.
It said it will reduce the number of ministries to 21.
The context
Aung Sang Suu Kyi wins Majority of seats in Myanmar's Lower.https://t.co/zHsNtAPMAspic.twitter.com/5M3v1iwddo

— Union Times (@UnionTimesorg) November 14, 2015
Aung Sang Suu Kyi led the NLD to an historic landslide election win last November.
However, the constitution drafted by the former Junta bars her from top office.
This is because her two children do not have citizenship in Myanmar. Neither did her late husband.
Suu Kyi has vowed to defy the constitution and has pledged to run the country from "above the president".
There has been no clarification about how this arrangement might be implemented.
The government takes office on April the first.
What about the Myanmar's military?
Myanmar's powerful military holds a quarter of parliamentary seats and the constitutional right to nominate one of three presidential candidates.
The military's Myint Swe appears to be edging NLD's Henry Van Tio for 1st VP in ballot counting underway. #Myanmarpic.twitter.com/CK0DmNuLCj

— Steven L Herman (@W7VOA) March 15, 2016
It's candidate, retired general Myint Swe, last week became the country's first vice president.
Analysts say relations between Suu Kyi and the armed forces will define the success of Myanmar's most significant break from military rule since the army seized power in 1962.
What they are saying
"Job security would be ensured by transferring the employees appropriately. There is no reason for causing unemployment if the government employees take jobs in accord with existing laws, rules and regulations," – Myanmar President-elect Htin Kyaw reassures public servants about job security.