Kazakhstan returns ruling party of President Nazarbayev - again
Comments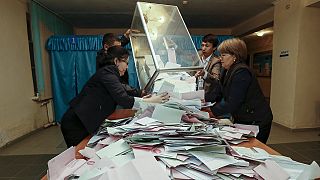 The party of Kazakhstan president Nursultan Nazarbayev has won a landslide in Sunday's snap election. It captured 82 percent of the vote, according to an exit poll.
The poll by local group Democracy Institute showed two other parties, the Communists and Ak Zhol, had passed the 7 percent threshold needed to win seats, meaning that the lower house, the Mazhilis, will include the same three parties as before.
Nazarbayev called the vote in January, apparently favouring an early election in case the economy, hit hard by the slump in the price of oil, were to worsen in the course of the year.
Sunday's election result comes as no surprise since the Nazarbayev has run the oil-rich Central Asian nation since 1989, brooking little dissent and which has never held an election judged free and fair be Western observers.