Baseball diplomacy as Cuba welcomes Tampa Bay Rays to Havana
Comments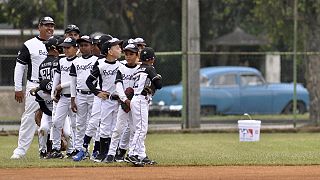 As relations thaw rapidly between the United States and Cuba the two countries are to celebrate their new cordiality with a game of baseball.
With Pres. Obama in Havana Cuba, consider the role of #baseball in American-Cuban diplomacy. https://t.co/pWVcA3ueM4pic.twitter.com/ZCO34ymo6w

— Nat'l Pastime Museum (@TNPMuseum) March 21, 2016
The sport is massive in both countries and a much awaited match between the Tampa Bay Rays and the Cuban national team goes ahead on Tuesday.
My piece for sportingnews</a> on the rich history of Cuba&#39;s baseball visuals <a href="https://t.co/S94P49GeoE">https://t.co/S94P49GeoE</a> <a href="https://t.co/GYwF7MVvBb">pic.twitter.com/GYwF7MVvBb</a></p>&mdash; Todd Radom (ToddRadom) March 21, 2016
Cuban Dayron Varona plays for Tampa Bay and defected three years ago:"This is something I didn't believe until I hugged my niece. Because it's been three years that I haven't seen my family and it's something very thrilling, but also very painful."
The new relationship ,may well lead to the exchange of players and regular matches between MLB and Cuban teams.
From ToddRadom</a>: The rich history of Cuban baseball visuals. <a href="https://t.co/wQGJ8gFH3q">https://t.co/wQGJ8gFH3q</a> <a href="https://t.co/ghlOux1tMo">pic.twitter.com/ghlOux1tMo</a></p>&mdash; Sporting News (sportingnews) March 21, 2016
Before 1959, American baseball teams used to conduct Spring training on the island, and many local players competed in both leagues.
1947 New York Cubans Baseball Team (Negro N.L. Champions) ~ w/Orestes "Minnie" Miñoso & Luis Tiant Sr. #Cubapic.twitter.com/CCXPYwC640

— Baseball by BSmile (@BSmile) March 21, 2016
The game will be attended by US President Barack Obama and Cuban leader Raul Castro.
Dear@POTUS Please refrain from any baseball while in Cuba. pic.twitter.com/kQYm8WIu66

— Vincent Lombardi (@VincentLombar13) March 21, 2016